Description
The VOODOO BOOMBOX is a high performance Bluetooth APTX 4.0 portable loudspeaker.
With its solid design and weatherproof IP44, the speaker has been designed for outdoor use.
Wireless and transportable with its backpack system, it allows to have a sound system in any place.
Equipped with a customised last generation battery, it offers a listening experience of up to 15 hours of autonomy.
Its built-in USB port allows continuous charging of your sound source.
The VOODOO BOOMBOX speaker is compatible with smartphones, tablets, computers and other devices that support Bluetooth wireless technology or 3.5mm audio jack output.
With a power of 200W RMS, a sound level of 112db and a frequency range of 45Hz to 20kHz, it produces quality sound with a reach of up to 50m.
HANDMADE IN LES ALPES

Handmade in France, the VOODOO BOOMBOX is also a product that is committed to an eco-responsible approach and that lasts in time.
TRUE WIRELESS STEREO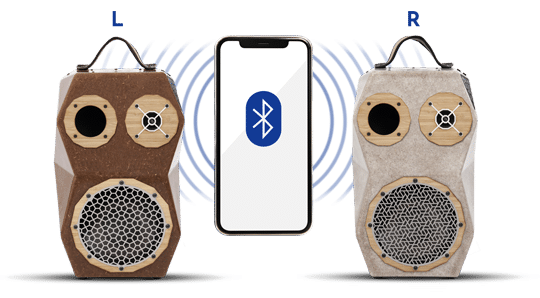 Thanks to True Wireless Stereo technology, two VOODOO BOOMBOX speakers can be connected together through Bluetooth and reproduce a stereo system.
INCLUDED ITEMS

DELIVERY TIME
3 to 15 working days
2 years
warranty
30 TRIAL DAYS
Once received, ou can try your VOODOO BOOMBOX loudspeaker at home for a period of 30 days. If it does not suit you, contact us at the following address: sav@peopeo.io

Secured payment
PEOPEO offers several secured payment methods.
Customer service available from Monday to Friday from 9h to 18h.