Geoffrey Dromard, Graphic and Industrial Designer for PEOPEO, reveals his inspirations and presents his artworks within the team.
Can you tell us about your background and what led you to become a designer?
The desire to create has always been a part of me. At first I wanted to become a comic illustrator but I've discovered Applied Arts. What has interested me was to use my creativity to serve others. As a Designer you have the possibility to collaborate with very different professions according to the projects (sociologist, anthropologist, ergonomist, engineers …) and to enrich yourself personally.
After studying Product Design & Packaging, I worked as a graphic designer and illustrator in agencies and as an independent. It gave me the possibility to broaden my creative skills and work for completely different structures (associations, local communities, small and large companies …)
My portfolio
What made you want to work with Peopeo?
What made me want to work for PEOPEO is the possibility to work globally as a Designer, to start from scratch and to imagine everything.
Industrial Design (creation of the VOODOO), graphic design (setting up the visual identity of the PEOPEO brand), Web Design (website, newsletter, social networks …) or Space Design (stand creation), my job allows me to change creative hats very often.
What did you want to bring to the brand in your first projects and what were your inspirations?
The loudspeaker market is a very competitive and saturated market; my goal was to propose a strong and disruptive global design that catches the eye and to correspond to our values which are Sharing, Adventure, Freedom and Eco-design.
It was when I had the specifications for the design of the shell (made of flax fiber) that the idea of drawing a face seemed to me obvious. The face of the VOODOO let the user adopt the VOODOO Bluetooth speaker as a friend.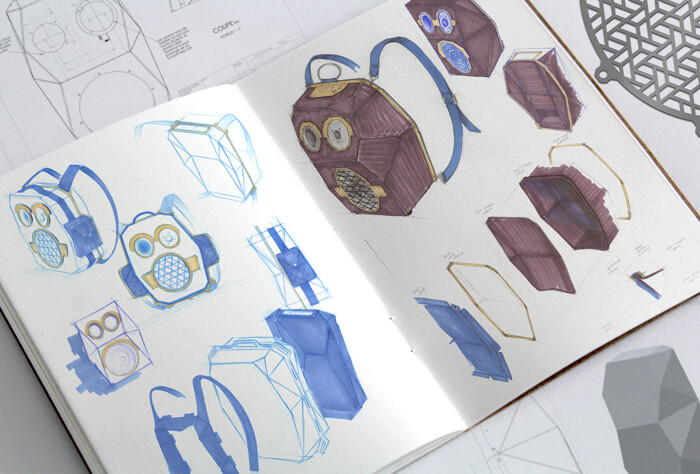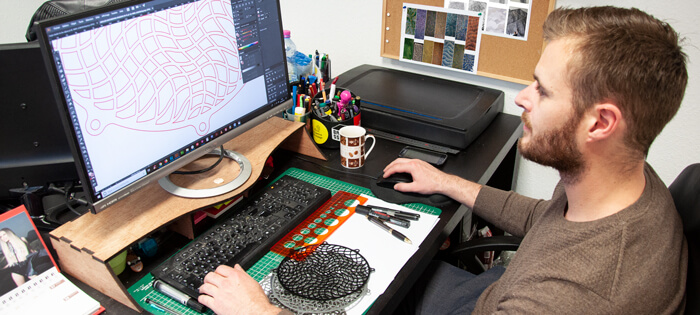 The visual identity of the brand has to follow the spirit of the VOODOO loudspeaker, this means a tribal, festive and timeless conception.
Is it more difficult to design an outdoor product than an indoor product?
Of course an outdoor product must meet different problematic and standards but it is even more difficult to design an outdoor product that must be nomadic.
For the VOODOO BOOMBOX we studied with the team its ergonomics to find an optimized way of transport. Wearing a rigid speaker can quickly hurt your back. So we thought about the shell design so that it perfectly fits the shape of the back. The riveted dorsal foam pads give a more pleasant support. The positioning of the straps on the shell, as well as their foam reinforcements make a better distribution of the weight and a more comfortable portability on the shoulders.
What are your methods of work, of creation (drawing, sketching, inspiration)
Step 1: drink a big bowl of coffee ☕
Step 2 : observe and analyze novelties while listening to music 🔊
Step 3 : Experiment with drawing, coloring, modeling, photoshoping (the method is different depending on the project) … test, test and test always while listening to music ✏️
Step 4 : Ask the opinion of others, it is very important! 🧑
Step 5 : Re-test and re-seek the opinion of others, decide and finalize my proposals 💡
Step 6 : Celebrate the end of the creative mission 🎉
How would you define your "style"?
It's hard to define one's style; many things inspire and influence me in my work. I appreciate childish, colourful, poetic, surprising, funny or even kitsch designs.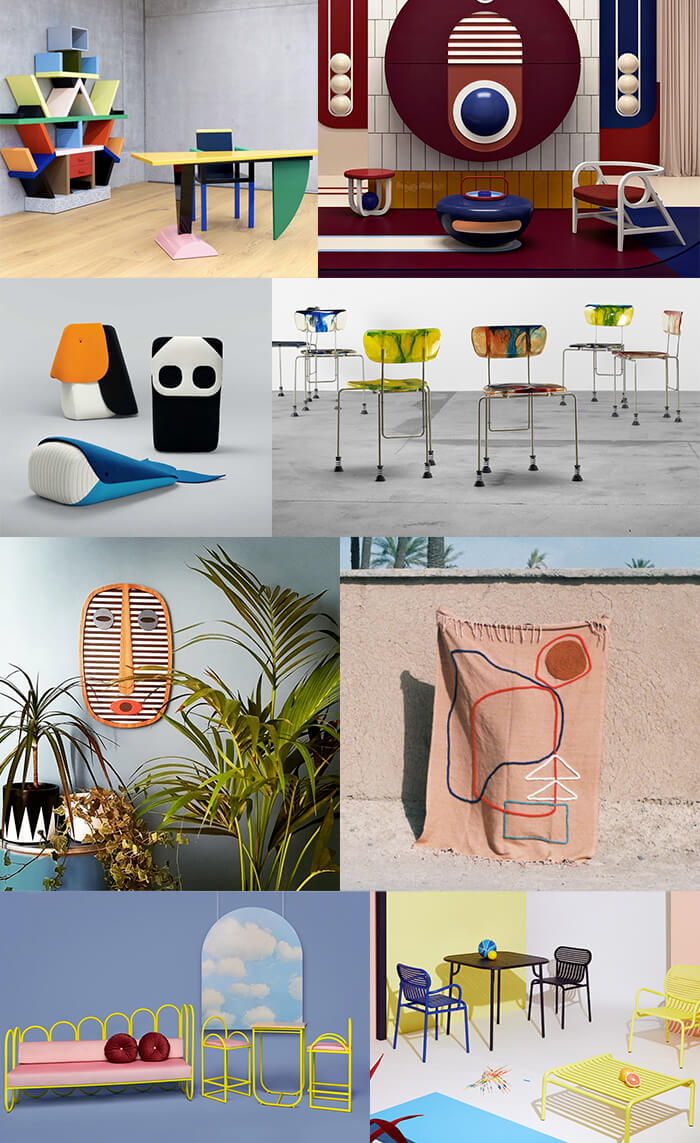 What is your purpose? Do you have a guideline in your work?
We live in a world of raw, in my opinion the designer must bring joyful, poetic and human values, to open minds and beautify our world.
Personally, I need to have fun in my work to bring positive and fun creations.
To give you a little idea here is a project made a few years ago with a friend.
This is an introduction to "Stupid Design", a project where the aim was to create a series of stupid, trivial or even illicit objects to provoke a state of wonder in user mind, and to make him question the world that surrounds him.
A tip to give to people wanting to get started and become a designer?
Trust your instincts but listen to others, not an easy exercise.
What will be the major innovations to come? (layout, uses, objects …)
Artificial intelligence that will even replace one day the designers.
The A.I. chair; presented this year at the Milan Design week, is the result of collaboration between the Designer Philippe Starck, the furniture distributor Kartell and the 3D software designer Autodesk; is a perfect example. It is designed through algorithms and human intelligences, I find it very intriguing, I look forward to seeing the future projects of Artificial Intelligences.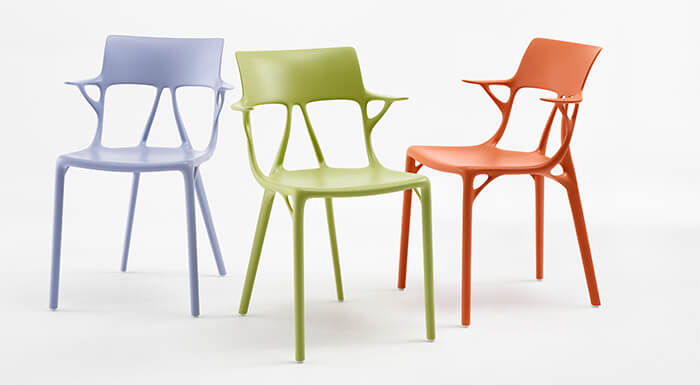 What do you think of the great eco-design trend? Do Advanced Concepts concern You?
Every day we see very innovative concepts.
Today I am very sensitive to this philosophy of collecting, sorting and recomposing to create new materials, new objects.
The work of the German designer Dirk Vander Kooij and his table Meltingpot are a relevant example. This table is molded by compression with various plastic wastes (garden furniture, vases, CD) creating a surprising and random surface; we obtain an object that can be produced in series while remaining unique. The object is almost a work of art that sublimates waste.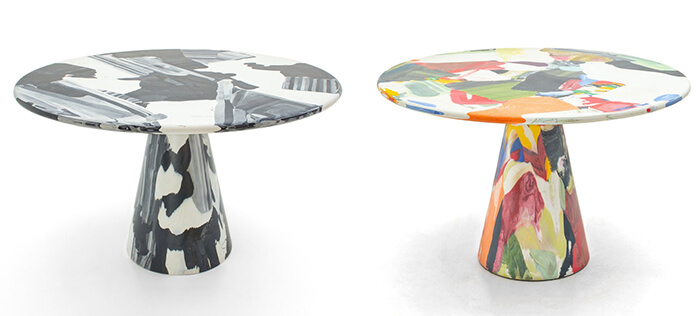 The Full Grown project also speaks to me a lot because it is based on the concept of taking the time to make durable objects. Design a chair by nature while waiting for 10 years for the branches to grow around a structure as if we were gardening and harvesting what we sow .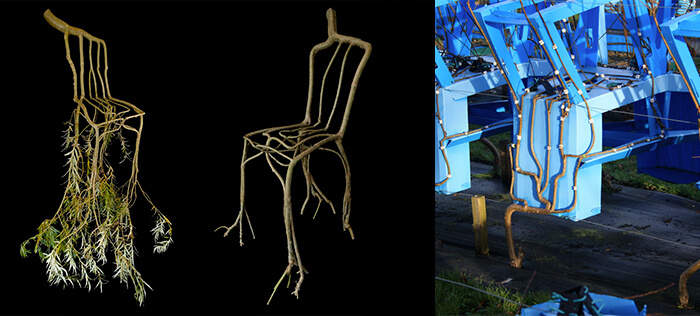 To conclude, the spirit and values of the Emmaus workshops are deeply touching me. I like this mix between Humanitarian Design and Eco-design. Give birth and beauty to furniture by recovering the old ones. Transmit to craftsmen the design knowledge of this new furniture, I love it.